We are absolutely thrilled to announce the launch of Jumbo 5, available for both iOS and Android. With this update, we're introducing several exhilarating new features to help you:
Reduce telemarketing calls
Blur your home on Google Street View
Restore a stolen identity
Much more!
We're also bringing back a friend that you might recognize. 🐘
The Return of Everyone's Favorite Elephant
For any long-term users of Jumbo, you might have wondered what happened to the cute elephant who used to give privacy and security tips. With Jumbo 5, we're reintroducing everyone's favorite privacy and security guru.
Pull the Plug on Telemarketers
We have all been interrupted by an unknown caller only to realize it's spam or a telemarketer. So we've built a tool to make it a cinch to reduce these annoying calls by adding yourself to the FTC's Do Not Call list, a national registry of numbers that companies aren't allowed to use for marketing purposes. In less than 60-seconds, you can reduce the number of spam and telemarketing calls you get. This feature won't eliminate 100% of these nuisance-calls, but it is a great first step towards reducing them. Currently this feature is only available to users in the US.
You can find the Do Not Call feature in the My Device section.
Blur Your Home on Google Street View
Right this very moment, anyone can view your home on Google Street View. That's not only creepy but a security risk–and it happened without your consent (funny how that happens). With Jumbo 5, you can blur your address in seconds, and keep the layout, location, and other details of your private property, well, private. We'll handle the processing of your blur and send you a notification when your address has been blurred on Google Street View.
You can find the Blur My Home feature in the new My Privacy section.
The Search Is On
Have you ever wondered if a certain email address, phone number, name, or other information has been leaked on the dark web? With our new Search feature, we've made it easy to look up different pieces of PII (personally identifiable information) and see exactly what associated information has been leaked.
With Search, you'll see an outline of all of the leaked data associated with the piece of info that you searched. You can also use it to help your friends and family understand their risks by generating custom reports for them. As always, all of the information you enter into Search stays 100% private on your phone and is never sent to our servers.
You can find the Search feature at the top of the Home screen.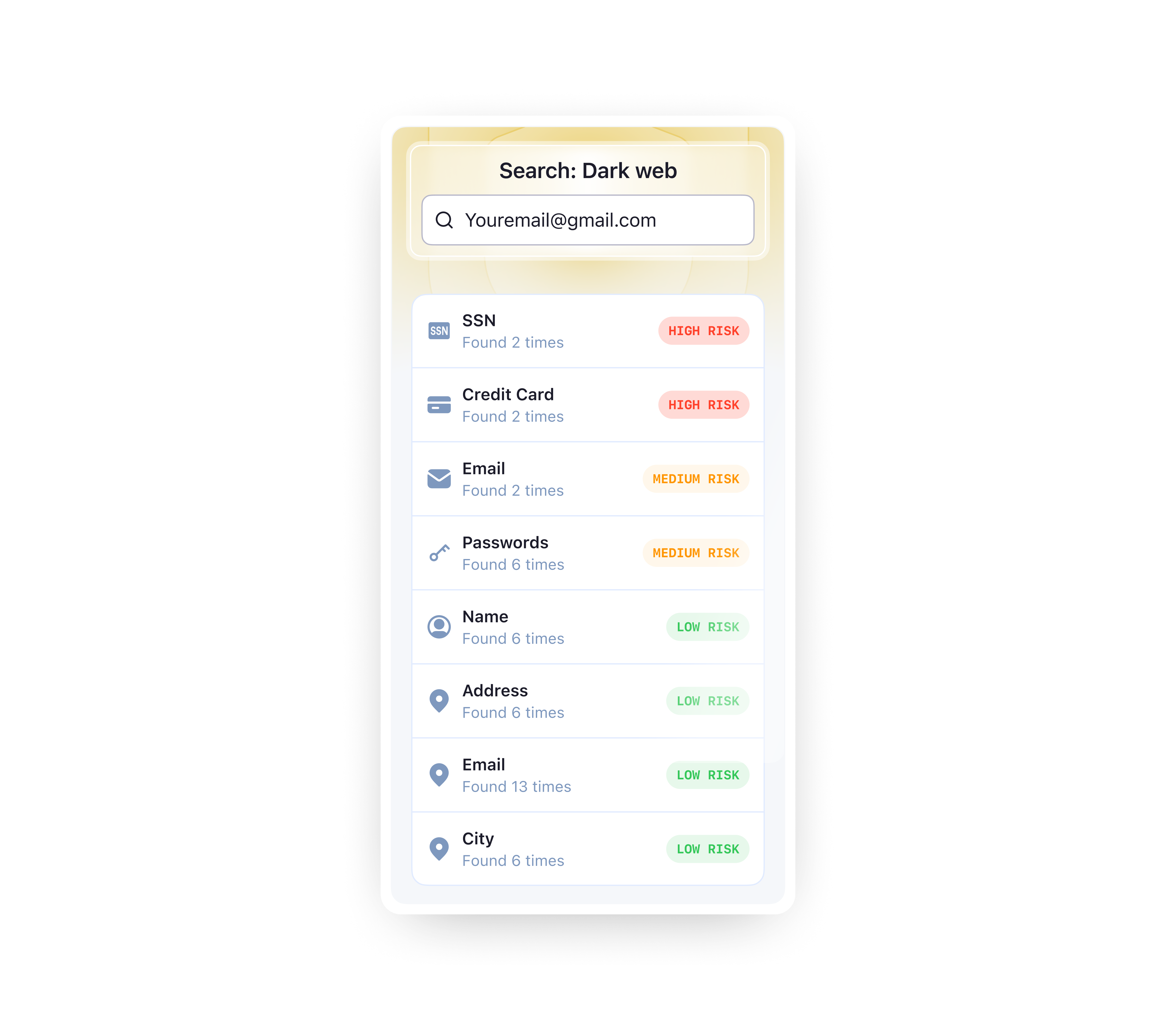 Identity Restoration
Anyone who has experienced identity theft knows how confusing the aftermath can be. With Jumbo 5, you get a dedicated identity restoration expert who will work with you to help you restore your identity in the event that it is stolen. Our identity restoration experts are always available to help you get your life back on track as quickly and smoothly as possible. We will also seamlessly connect you with our identity-theft insurance partner in case funds were stolen.
You can find this feature in the My Money category.
Brand New Layout
All of these amazing new features are now accessible in a fresh, clean layout. On the Home Screen you can use our search function to find your security risks, or navigate to My Security, My Privacy, My Money, My Device, My Family, and My Vault for additional monitoring and resolution steps. Our friendly elephant-mascot also lives on the Home Screen to help you stay in a state of privacy-and-security zen.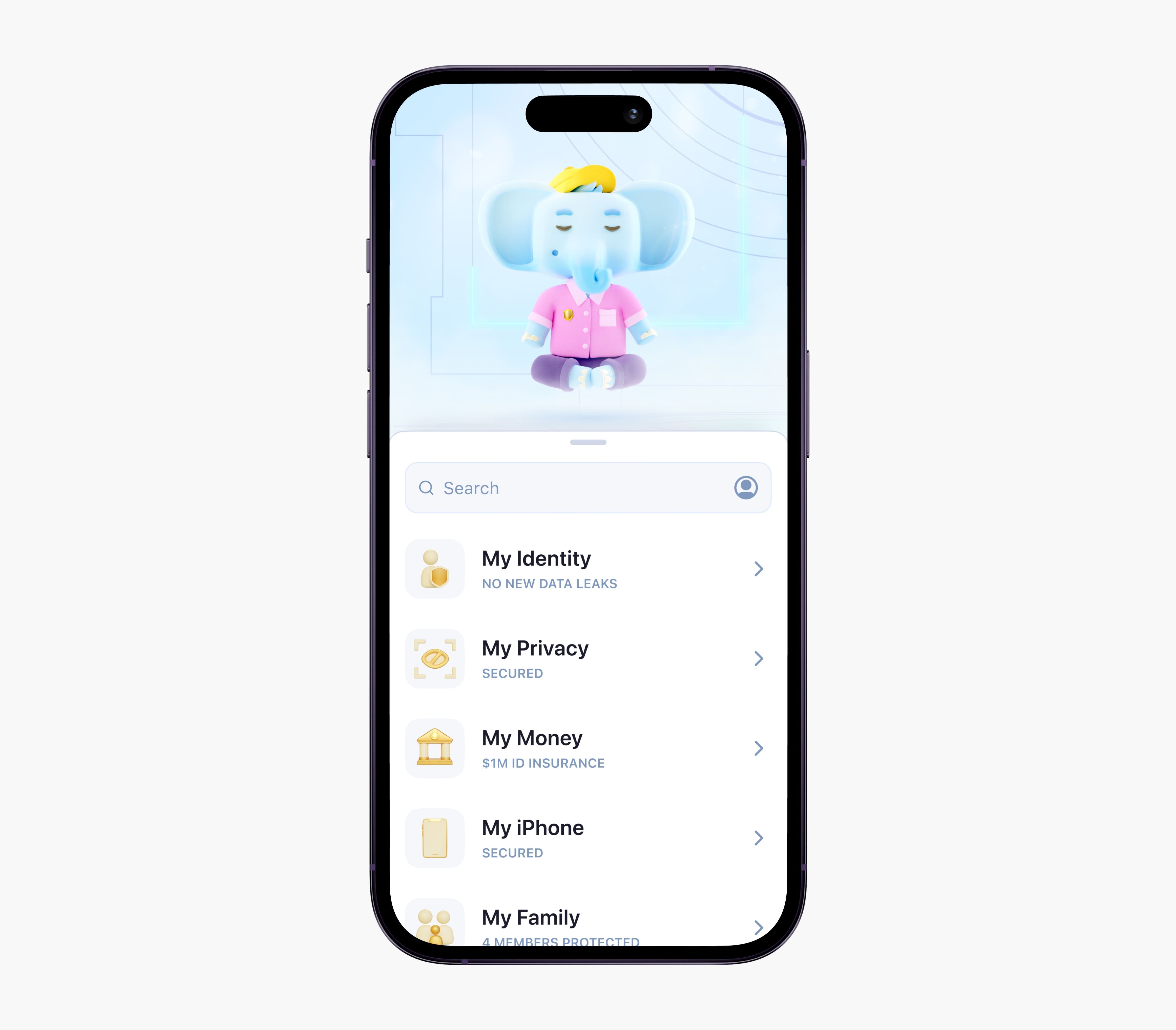 We're Not Done… Setting the Stage for New Features
With Jumbo 5 we're rolling out a ton of new features to help you manage your privacy and security in a simple and fun way. But this is only the beginning. Jumbo 5 sets the stage for additional exciting features to come.
Do you have a privacy and security feature idea that you would like to see in Jumbo? Send us an email at [email protected] and let us know what tools would help you the most in Jumbo 6!
– The Jumbo Team