Today, we're excited to announce our biggest update so far: JUMBO 4. Available for both iOS and Android, today's update includes:
A completely free experience for everyone
Identity theft insurance for all US users, free up to $1,000,000
A redesigned app and icon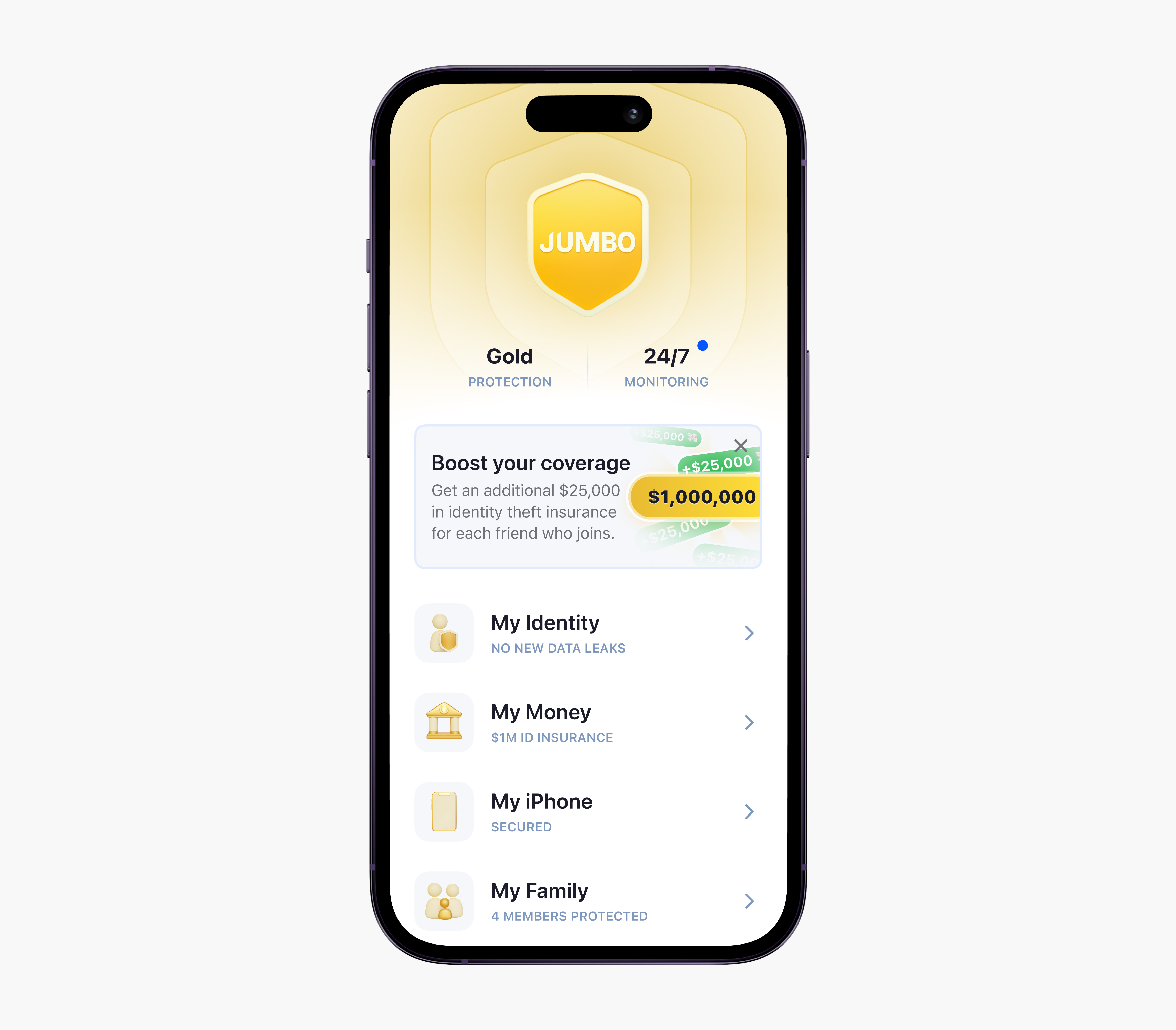 Free for Everyone
JUMBO's mission is to make everyone safer online. For the past 2 years we have been working on that mission as a consumer subscription-based product. But during this time, we have also seen folks who couldn't afford JUMBO's best tools, and we found this at odds with the "everyone" part of our mission.
So, today, we are making our powerful features available for free to all of our users.
Some of our best features in JUMBO 4 that are now free:
Identity Theft Insurance – Stolen-funds reimbursement up to $1,000,000
Block Trackers – Stop ad trackers from monitoring you
Data Leak Detection – Find out when and where your info was leaked
Wi-Fi Protection – Get alerts when a Wi-Fi network is not secured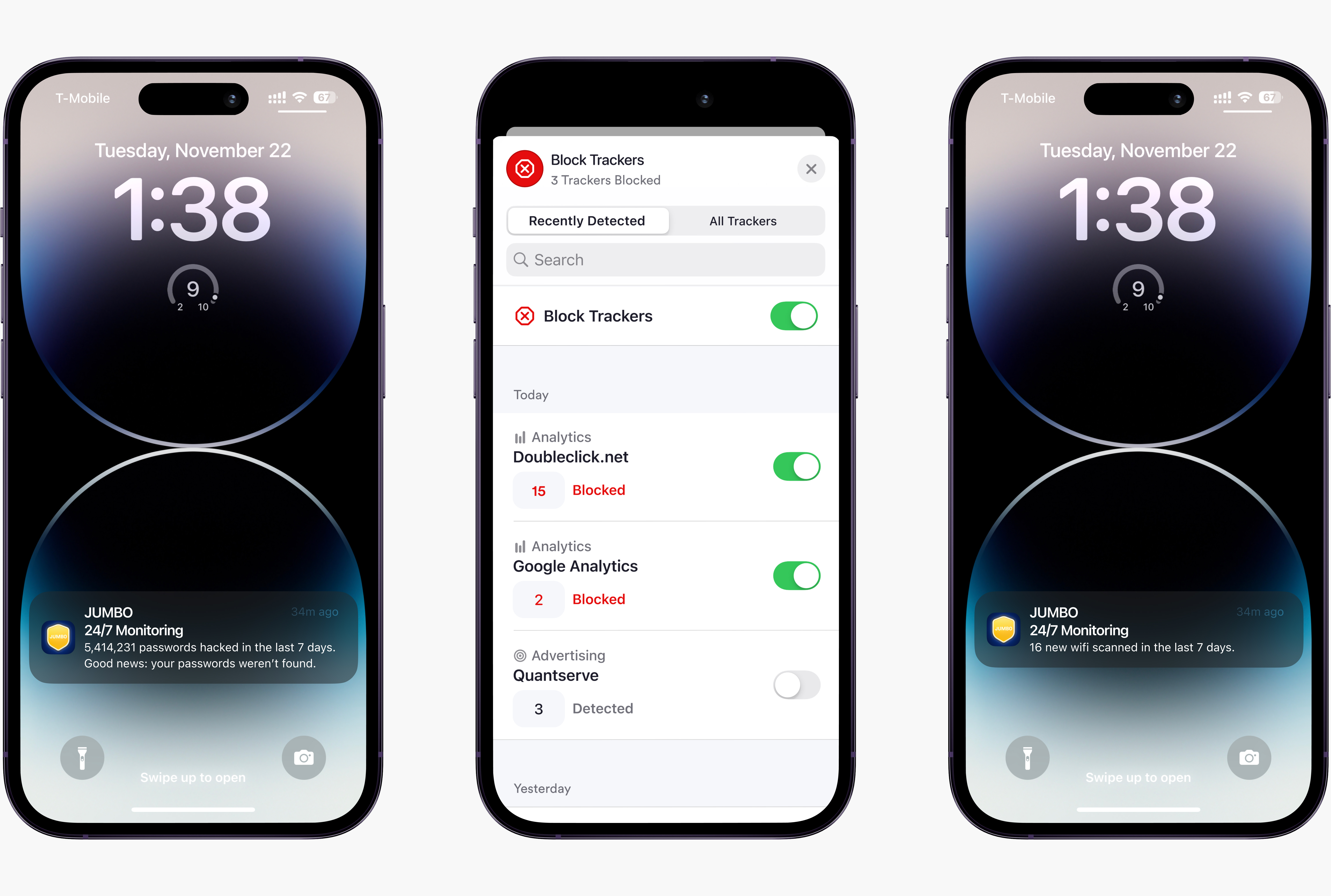 Free Identity Theft Insurance in the US
In 2021 alone, nearly 42 million Americans became victims of identity fraud, costing consumers $52 billion - or an average of $1,200 per victim. With JUMBO, you are automatically protected with $25,000 in identity theft insurance in less than 30 seconds, for free.
Last year, JUMBO's data breach scans discovered 988 data breaches and more than 331,000 leaked social security numbers, 850,000,000 leaked passwords and over 1,000,000,000 (that's a billion!) exposed email addresses. With so much leaked data, it's no wonder that identity theft and fraud are on the rise.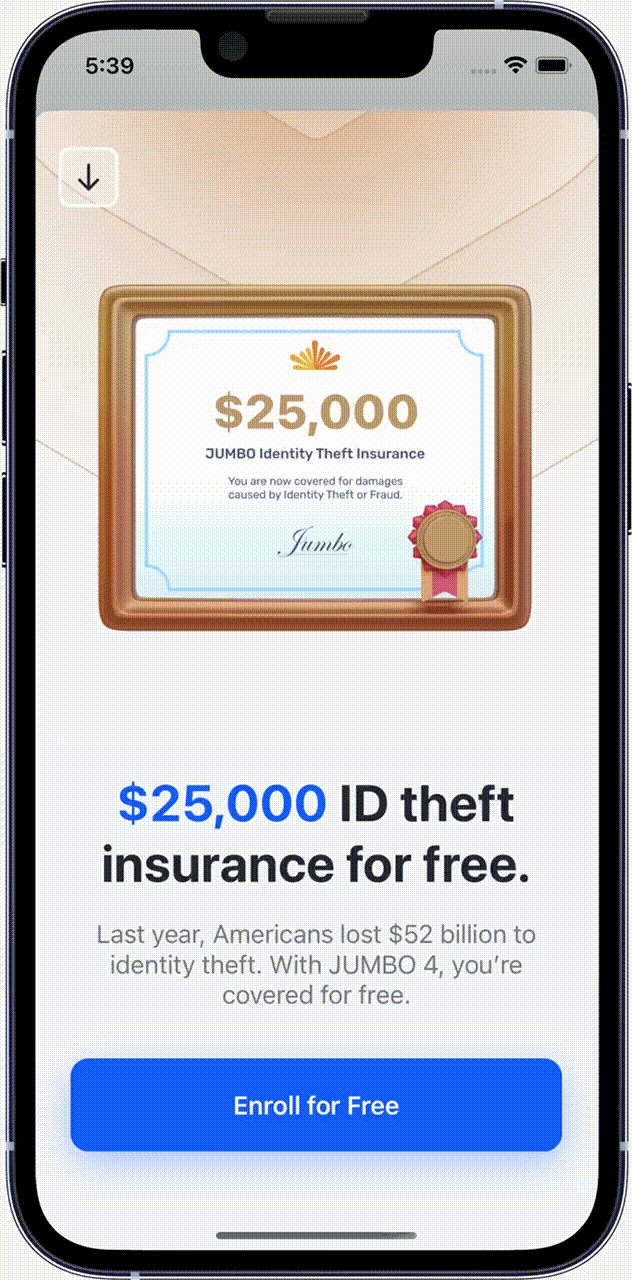 Download Jumbo on iOS or Android to get your free identity theft insurance. If you have already downloaded JUMBO, follow the instructions in the app.
Up to $1,000,000 in Free Coverage
$25,000 in identity theft insurance is just the beginning. For each friend you invite who joins JUMBO, we will increase your coverage by $25,000. Invite 3 friends? You're covered up to $100,000 in damages. 10 friends? That's $275,000! There is no limit on the number of friends you can invite and you can reach a maximum of $1,000,000 in identity theft insurance.
In the end, you get better coverage, your friends get $25,000 insurance for free, and we spread the word about JUMBO. It's a win-win-win.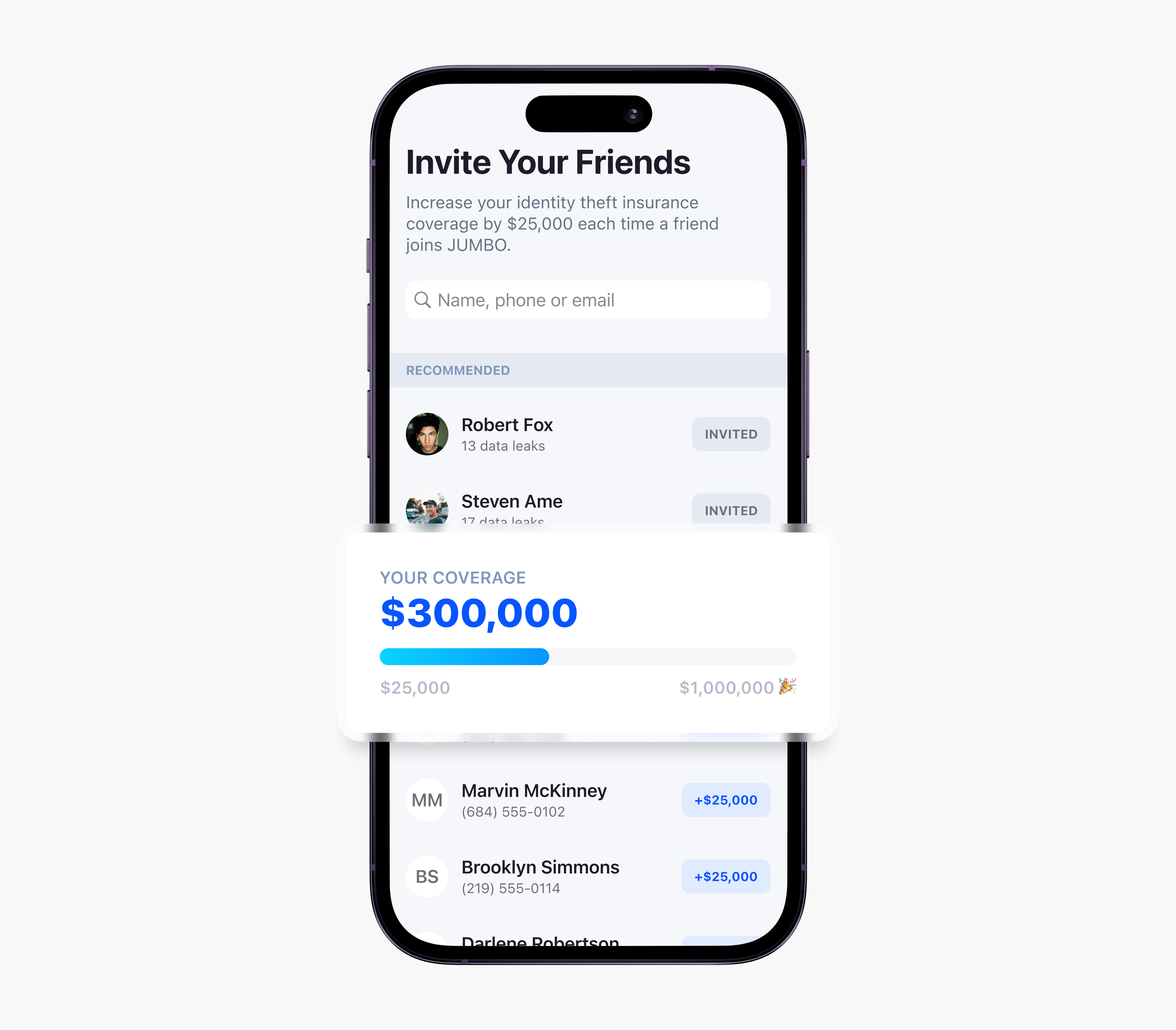 Protect Your Family
Security is a social affair. If your loved ones have unchecked leaks, they could get hacked. If a hacker gets access to your family member's accounts, that's an entry point to steal your information, access your accounts and possibly steal your money.
Use JUMBO to invite those closest to you to join your JUMBO Family, and make sure they are protected for free. By helping your loved ones resolve their leaks, you and your family are that much safer.
Redesigned App and Icon

JUMBO 4 also features a completely re-designed app, which is simpler than ever. The app now has 4 different categories: My Identity, My Money, My Phone, and My Family. Within each of these categories, you can find our most powerful features to protect you online. Learn more here.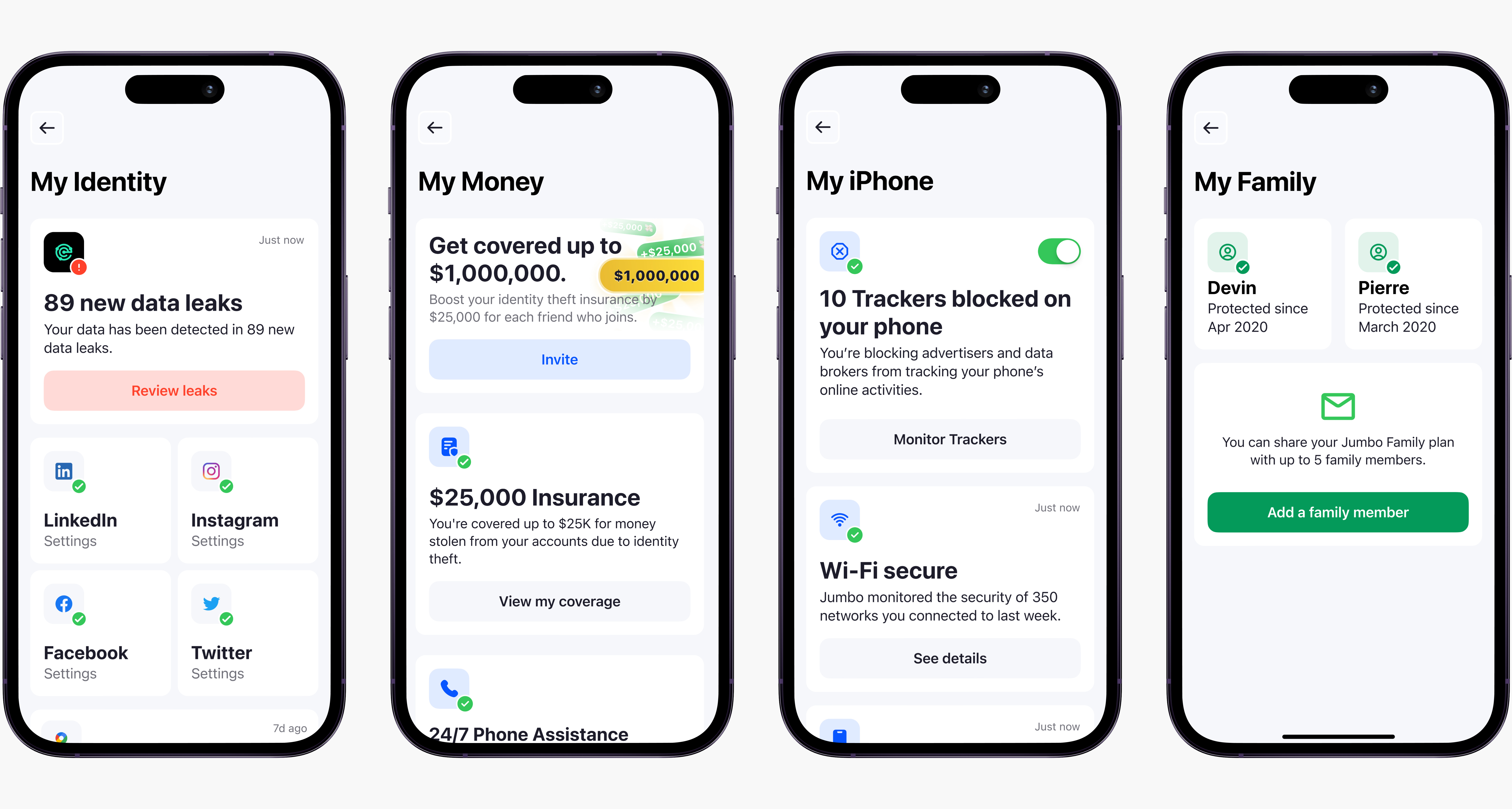 A New Business Model
Instead of charging consumers directly, we will be offering JUMBO for businesses to protect their teams without having direct access to their employees' personal data. If you are interested in this for your company, please let us know at [email protected]
Just like before, JUMBO will never sell ads or monetize user data.
Thank You
Our vision here at JUMBO is to make everyone safer online. We want to thank JUMBO users, both new and old, for being on this journey with us as we grow and improve our product. With the year-over-year rise in data breaches and identity fraud, the internet is becoming a scarier place. We're committed to making the internet safer with the launch of JUMBO 4.
Have any feedback? We're a small team of privacy and security nerds who love to chat about technology, JUMBO's design, or your favorite pizza dough recipe. Email us at [email protected]
– CEO Pierre Valade, and the JUMBO team.
---
About JUMBO
With over 1.5 million downloads and counting, the JUMBO app is quickly becoming the go-to first layer of privacy and security for both iOS and Android users. Led by CEO Pierre Valade, JUMBO's mission is to make everyone safer online. Combining innovative technology with the personal touch of human customer service has resulted in a 4.8 star-rating on Trustpilot and a 4.6 rating on the iOS App Store.
First launched in April 2019, JUMBO has been featured in TechCrunch, Washington Post, Business Insider, Fast Company, The New York Times and many more. The JUMBO team is backed by world class investors including venture capital funds Index Ventures (Dropbox, Notion, Datadog, etc.), Balderton Capital (Darktrace, Dashlane, Revolut, etc.), Thrive Capital (Instagram, DuckDuckGo, Github, etc.).
JUMBO's founder and CEO, Pierre Valade, is an experienced entrepreneur who previously founded Sunrise Calendar, a viral calendar app that Techcrunch called "the best calendar app ever". Sunrise was acquired by Microsoft in 2015 and subsequently integrated into the Outlook mobile app's calendar experience. Pierre was also named to MIT Technology Review's "Innovators Under 35" list in 2015.