As the CEO of Jumbo, I made a commitment to make sure that each decision we make for our product and our company fundamentally respects your privacy. Over time, we want to honor your trust by consistently striving to ensure each of our decisions protects your privacy.
Pierre Valade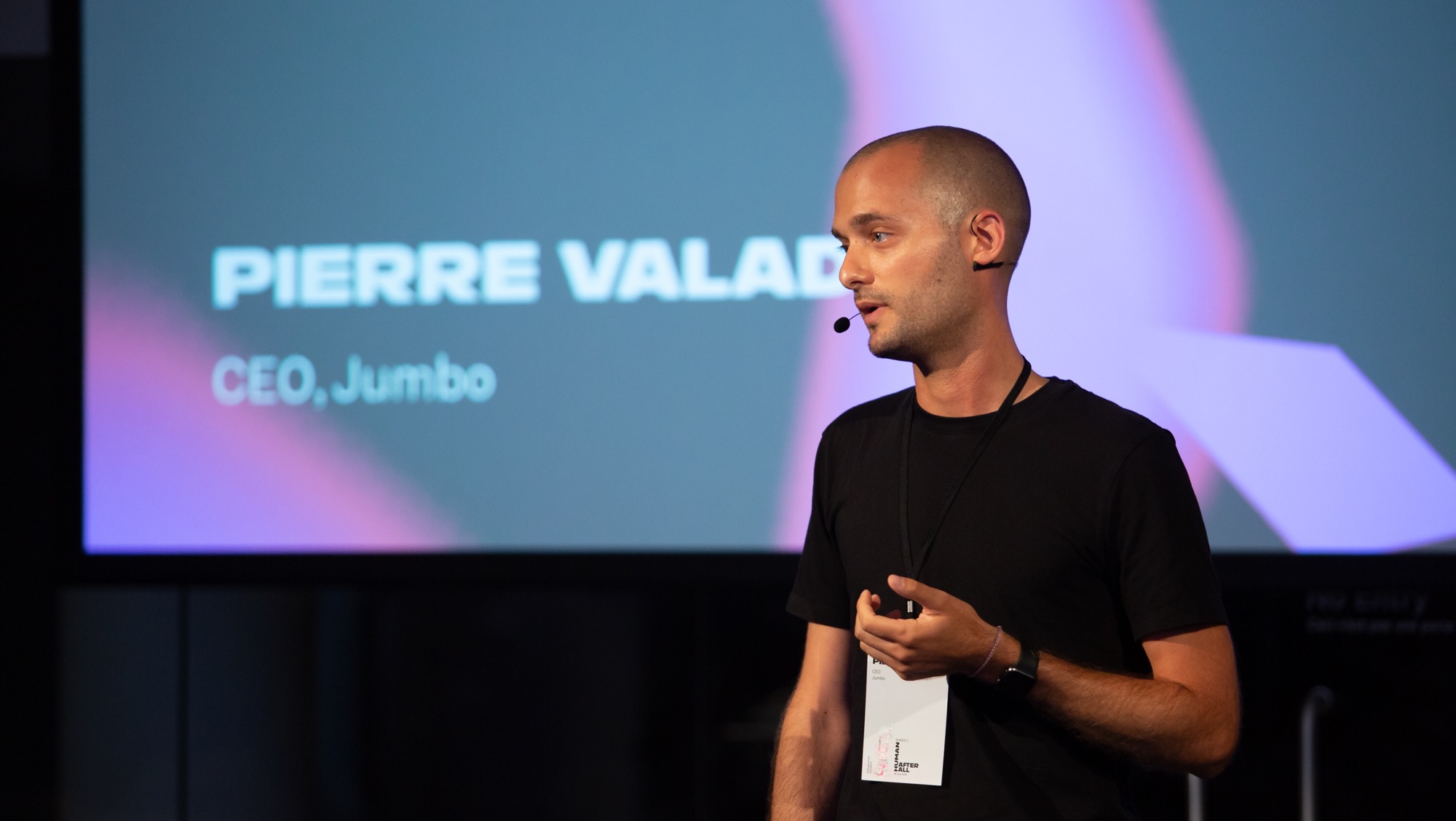 This policy was last updated on August, 2nd, 2019.
We never collect, store or process data you manage through Jumbo, therefore we cannot and will never sell any of your data. In fact, we don't even know who you are.
I think this is the most fundamental decision we have made while building Jumbo: the application and its functionalities are phone-based: all the data processing happens from/in your iPhone. This means that we do not collect nor access any of your personal information when you use Jumbo, not even to identify you for analytics purposes.
Push Notifications
We may send you updates about Jumbo by sending you push notifications if you have given us your prior approval to do so.
To send you push notifications, we store and use a serial number which was generated by Apple, best known as a "token", which is unique to your phone.
We cannot identify you nor localize you through this token but we can send you messages. This is why we have a strict security policy when collecting, storing and using your token.
Analytics
Our iOS application can send analytics to our analytics providers: Segment and Amplitude. We do not track or store any personal information in our analytics. Instead, we ask Apple to generate a unique deviceID which we use as a unique token for analytics purposes. Our analytics are 100% anonymous.
Services Jumbo relies on, and what data they might store about you
Help Scout
We have decided to use Help Scout as our helpdesk service provider. Therefore, if you email [email protected], Help Scout will receive and keep a copy of your IP address, and your name if it sent as part of the headers of the email protocol. We have setup Help Scout so that it deletes automatically all emails from their servers 30 days after they are received. For more information about how Help Scout processes your data, please visit https://www.helpscout.com/company/legal/privacy/
Microsoft Cloud, Azure
We choose the products we use very carefully, and our email servers (that we are using for [email protected] for example) are powered by Microsoft Cloud. Microsoft Cloud has a very strong reputation to respect privacy. If you email [email protected], Microsoft servers will receive and keep a copy of your IP address, and your name if your name is sent as part of the headers of the email protocol. Contrary to what we have set up for Help Scout, we will keep your emails for as long as it is necessary for replying to your request and then for as long as necessary, if required to, for evidence purposes. For more information about how Microsoft processes your data, please visit https://privacy.microsoft.com/
Apple
Apple hosts our Jumbo iOS app. Apple provides Jumbo with analytics: this feature is called App Analytics. Apple does not provides Jumbo with information that would personally identify you. You can turn off this feature completely, also. For more information about how Apple processes your data, please visit https://www.apple.com/legal/privacy/
Cloudflare
We use Cloudflare as our DNS provider for our app and our websites. Cloudflare has a solid privacy reputation. Cloudflare says they will log your IP address for less than 24 hours. To the best of my knowledge, I haven't found a way to access, from the Cloudflare dashboard, these logs. For more information about how Cloudfare processes your data, please visit: www.cloudflare.com/privacypolicy/
Github Pages
The websites www.jumboprivacy.com and blog.jumboprivacy.com are hosted by Github, via their feature Github Pages. Jumbo has configured Cloudflare as a proxy between you and the Github servers, in order to avoid your IP address being sent to Github. Github never get any personal data. We do not use any cookies on our websites that will store any personal data.
Any changes I make to the Privacy Policy in the future will be posted on this page and, when mandatory, notified to you directly in the App.
Thanks for reading!
Email [email protected] if you have more questions, thanks!